NEW ARRIVALS AT THE GIFT SHOP….JUST IN TIME FOR SPRING!
  Back Packs for Kids!!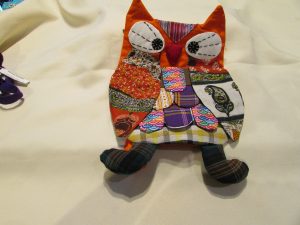 Robert Bateman Owl Mugs                        
                 
Unique Handbags!!
                                                     
     Shadow Boxes!!
  
Gel packs for kids – use them hot or cold!!

BABY ITEMS:
Teddies:  I was born at UHNBC        Fuzzy Piggy Banks
JOANNE'S BABY CAKES!!  
               
Joanne Eikum is a crafter and quilter extraordinaire!! She joined the Auxiliary in Feb 2010 and has been making 'Baby Cakes' ever since. Since joining, Joanne and the quilting ladies have made over 130 baby cakes. These wonderful baby gifts are loved by all new moms!!! The 'cake-shaped' and beautifully wrapped packages include sleepers, toys, diapers, soothers, receiving blankets  and other essential baby things. They come in blue, pink, yellow and green.  There's even a special one made for the New Years and Canada Day babies!!
Look for gift items you can't find anywhere else in town!