The Auxiliary to UHNBC has pledged to fund $84,000.00 for the hospital Rehab Department. This Locomotion Trainer Treadmill will enable our physiotherapists to help patients re-learn to walk after serious physical and neurological injuries. 
The Auxiliary is holding a Raffle Ticket sale from September to December in order to help raise funds for the Physio Department's new Training Treadmill.  Look for our sales table in front of the Gift Shop Monday thru Friday! 
Members, please sign up to sell tickets.
Headlining our raffle items will be the 100th Anniversary Quilt made by Joan Vogt, convenor of the Quilting Service.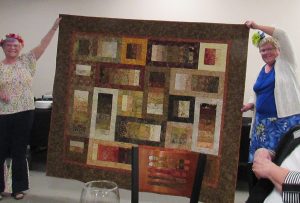 There will also be a beautiful crocheted blanket and two original pieces of art work by Auxiliary members Sue Attridge and June MacKay.