The Auxiliary to UHNBC would like to acknowledge and thank the family of Bonnie Walberg, for their very generous 'in memoriam' gift. The $10,000.00 donation will be given, in Bonnie's name, as Bursaries to CNC and UNBC students enrolled in a medical program. Both educational institutions will each get $1000.00 for five years.
Bonnie was a dedicated volunteer and a friend to everyone she worked with. Bonnie had 28 years of service with the Auxiliary. She delivered flowers to patients in the hospital, she worked in the gift shop and on the information desk. For many years she made tray favors and worked in the blood donor clinic. Bonnie was an avid gardener and as well as delivering poinsettias at Christmas to hospital patients, she looked after many plants around the hospital. She was genuinely interested in others and she is very much missed by all who knew her.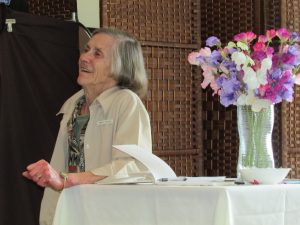 Bonnie at her 80th Birthday Party!